Throwback Thursday: March 10, 2022
Matt Thorenz
From our trunk to your home! We have recently added a new collection of historic documents to our digital collections page on New York Heritage here! New York Heritage is a free online database that compiles historic materials from libraries, archives, museums and historic societies from across New York State. These collections include photographs, artwork, military/civil records and much more! You can view the rest of our collections on New York Heritage on our landing page here! As mentioned in a previous post, these documents belonged to Benjamin Sears (1745-1817), one of the first sheriff's of Orange County, and official auctioneer.
These deeds, indentures, and maps refer to land granted to individuals who settled in what would become known as the Village of Montgomery in Orange County, New York  and are a wealth of information for anyone wishing to research the history of our area, or aid them with their local genealogy. Originally found in a trunk found in our library vault labeled "H.B.", we were able to scan and preserve these documents, some dating to before the American Revolution, to make them accessible for all. Some notable names include Cornelius C. Schoonmaker (1745-1796); a representative of the state convention to ratify the U.S. Constitution, member U.S. House of Representatives, and state assemblyman, and James Clinton (1736-1812); a General in the American Revolutionary War and New York State Senator.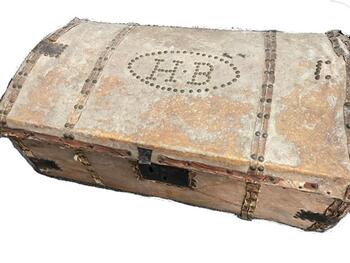 Other surnames represented in this collection include:
Boggs
Bruyn
Caldwell
Crist
Gillespy (sometimes spelled Gillespie)
Hasbrouck
Millspough (sometimes spelled Millspaugh)
Moffat
Sears
And many more! 
If you are wondering how these items may relate to Washingtonville or Blooming Grove, Benjamin Sears would eventually establish a farm in the Town of Blooming Grove in 1791, which is marked by a historic marker on Blooming Grove Turnpike/New York State Route 94 heading west towards Chester. The farm and its contents were inherited by Dr. Marcus Sears, one of Benjamin's 9 children, who then passed it to his son, Benjamin C. Sears (1836-1926). The trunk dates to the late 18th/early 19th century and was the product of Henry Stanton, a saddler and harness maker from Brooklyn, New York, and the initials are believed to be those of Henry Brewster (1751-1830), a local resident from the Washingtonville area and a contemporary of Benjamin Sears.
Have a look for yourselves and explore this wealth of historic materials from your own home today! 
We wish to thank our Friends of Moffat Library for supporting the digitization, transcription, and conservation of these rare documents! If you're interested in joining our Friends group, please see their About page here! For more information on these and other items in our Local History Collection, contact us at (845) 496-5483 x 326, or moffat@rcls.org today!